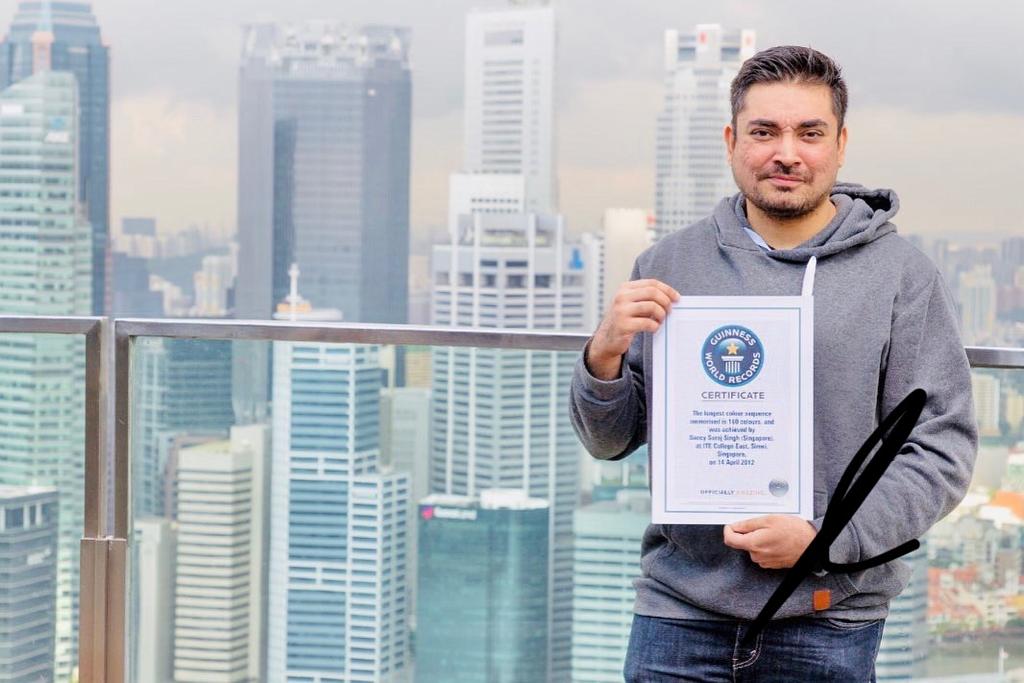 About Sancy Suraj: Unleashing the Power of Memory
Sancy Suraj, a 6x World and National Memory Record Holder is a visionary memory enhancement expert, and the founder of Pinnacle Minds, Sancy hails from the vibrant city of Singapore. With a keen intellect and an extraordinary memory, Sancy has become a trailblazer in the field of memory training, inspiring minds across the globe to unlock their true cognitive potential.
A Journey of Memory Marvels
From a young age, Sancy Suraj's fascination with memory led him on a remarkable journey of exploration and discovery. His unwavering determination to harness the full potential of memory saw him representing Singapore in the esteemed World Memory Championships in 2011. There, he astonished the world by memorizing 176 abstract images, 98 words, and a staggering 480 numbers in remarkably short periods. Furthermore, Sancy showcased his mastery by memorizing 51 names and faces in 15 minutes and an impressive 460 binary digits in just half an hour.
Setting Records and Making History
Sancy's relentless pursuit of memory excellence continued as he achieved a world record for the longest color sequence memorized in 2011. His awe-inspiring memory skills allowed him to flawlessly recall 160 colors in a breathtaking 5 minutes and 20 seconds, setting a new standard in memory feats. Additionally, he etched his name in Singapore's record books for pi memorization and recitation, flawlessly recalling 1505 digits in just 30 minutes, leaving audiences astounded.
Empowering Minds through Pinnacle Minds
Fuelled by an ardent desire to share his knowledge and elevate minds, Sancy Suraj founded Pinnacle Minds in 2011. As the leading memory training company in Singapore, Pinnacle Minds has had the privilege of empowering over 40,000 adults and students through transformative workshops, courses, and lectures. Sancy's holistic approach to memory training, blending cutting-edge research and innovative techniques, has earned the trust and admiration of countless individuals and corporate clients.
Trusted by Global Corporations
Sancy Suraj's expertise and passion for memory training have caught the attention of numerous global corporations. Pinnacle Minds has collaborated with more than 100 esteemed companies, including industry giants like Singapore Airlines, Bank of Singapore, Maybank, United Overseas Bank, Mapletree Investment, GIC, and Nasdaq. The continued patronage of these esteemed organizations is a testament to the effectiveness and impact of Pinnacle Minds' memory training solutions.
An Author with a Vision
In addition to his groundbreaking work in memory training, Sancy Suraj is a published author. His book, available in leading stores such as Apple Books and Barnes & Noble, encapsulates the power of memory and offers invaluable insights into unleashing the full potential of the human mind.
Join Sancy Suraj's Vision
As Sancy Suraj continues to inspire minds and redefine the boundaries of memory capabilities, he invites you to join him on this extraordinary journey of learning, growth, and transformation. With the guidance of Sancy and the expertise of Pinnacle Minds, you can unlock your memory's true potential and achieve greater heights in every aspect of life.
Experience the Power of Memory Mastery with Sancy Suraj and Pinnacle Minds.
---
Contact Us To Register For Our Memory Improvement Training Courses